F&F is Tesco's branded fashion range. Selling a whole host of vibrant outfits for ladies, men, children and babies. Their clothing changes to suit the season and remains good quality at low cost.
We have been trying out some items
from the new Spring/Summer range.
The campaign, shot in authentic Rio, took place in the favelas, now globally renowned as a culturally inspirational and creative hotspot, providing the inspirations for many patterns and details.
It consists of practical yet stylish pieces to suit all occasions.
For girls, pretty lace dresses, skirts and patchwork baby-doll smock tops come in botanical and butterfly prints of pastel lemons and antique mint greens. Elsewhere, tribal beading decorates tops and dresses with added mirror detailing.
This post is all about the girls pieces. We were sent some items both for Jordanna and smaller pieces for Izebella from the new collection. I will be doing the boys post separately.
Lace Dress (from £12)
First is this beautiful lace dress in baby pink. The dress is very floaty and Summery and has a pretty lace floral trim to the top. It fastens via buttons at the back and is a very good fit with room to move and dance around. It's perfect for just about any occasion be it a holiday, party, wedding or even an every day Summer dress. It can also be combined with a one of the jackets (below) to create a stunning outfit. Add a pair of sandals or ballet pumps and a hat for a beautiful girly Summer look.
Jackets
Jordanna was sent two very pretty yet totally different Summer jackets which can be mixed and matched with other pieces to create many different outfits as you will see in my photographs.
The first jacket is a pink "Dink Biker" jacket which starts at £12.

This jacket is short cropped style and provides a lightweight cool fit. It fastens with a zipper and press studs to the collar. There are 2 pockets and a floral print to the inside.
It's a beautiful jacket, perfect for matching with the dress above. It will provide enough warmth whist away on a holiday when the nights are a little cooler.
Izebella just has to be a part of every picture.
Jordannas second jacket is the "Aztec Biker" and starts at £18.

This jacket will certainly make little divas stand out. It's funky and vibrant with black & white bold patterns. It has two pockets and fastens with a zipper and a hidden button. It even has leather look shoulder and arm pads. It looks so cool. Perfect for the disco.
Shorts
Summer would not be complete without a few pairs of shorts in a little girls wardrobe. Jordanna has two pairs from the collection.
First the "Floral Print" starting at £8.

I really like these. I have a similar pair myself in a similar pattern. The pretty floral print goes all the way around. The shorts fasten via a zip and button and there is an adjustable elastic waistband for the perfect fit.
Combine them with the pink jacket for the perfect princess look.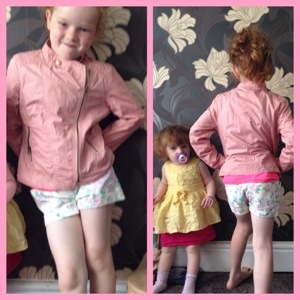 Next for a more disco diva look are these black shorts with reflective studs (starting from £6)

These shorts will make little girls twinkle with the reflective buttons to both back and front. There is no adjustable waist band which is a shame as they are slightly big on Jordanna. These combined with the Aztec biker jacket give a very sophisticated disco look.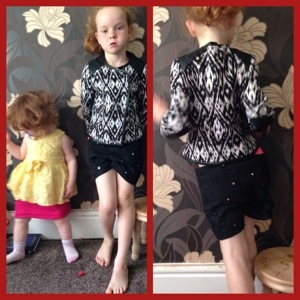 Or to add a bit of extra colour, simply use the pink jacket instead for a completely different outfit.
Aztec Skirt from £8
To complete our beautiful collection is this fabulous little Aztec Skirt.

The skirt has a similar design to the Aztec Jacket above and in bold black & White patterns. It has a stretchy elasticated waist therefore no buttons or zips. It simply slips on and clings to the waist. It's a great little lightweight floaty skirt with several layers. Again just perfect for the holiday disco.
I was unsure if it would go well with the Aztec jacket or if the patterns would clash but it seems to work quite well.
Add a pair of black boots and you have the perfect outfit.
Baby/Toddler
I was also sent some pieces for Izebella from the baby/toddler range. Also very cute.

The baby toddler range sees similar designs to the older girls range. Stripes, florals, pinks and bolder patterns.
I do not have individual prices for the baby pieces but I do know that they are very low cost, usually just a few pound for the t-shirts and shorts.
Jordanna has loved trying out all the new pieces and combining them together to make different looks and outfits. The pieces are perfect for taking away on holiday especially given the low prices. Perfect for creating a great party outfit too.
The girls collections come in two varying size ranges. For the younger girls 1-7 years and the older girls 5-14 years.
The above pieces and many more can be purchased in Tesco stores across the country and also online at F&F clothing