Last month we took a much needed break to Disneyland Paris. All 4 of us went for 4 nights. Here is a little bit about our experience.
Hotel – We stayed at the Sequoia lodge which is one of the Disney hotels. This hotel is approximately a 10 minute walk to the Disneyland parks. There is a free shuttle which regularly runs to the parks but we didn't use it. The walk is really pleasant and you get to see lots of great views on the way.
Check in at Sequoia lodge was very quick and straightforward. Our room was on the lower ground floor. The hotel is huge, the corridors are like a maze and remind me a little of the overlook hotel from the Shining movie. It's slightly dated but has a Bambi and forest type theme throughout. The rooms are all very g similar, basic but comfortable. After all if you're staying at a Disney hotel then it's unlikely you'll spend much time in the room.
You don't get a kettle in the rooms but you do get a pass which entitles you to 4 hot drinks per day. These drinks can be found at the various vending machines on every floor. We looked forward to them after long days around the parks.
This hotel has a large swimming pool with a jacuzzi. The pool is in its own separate building in the hotel grounds. It's heated and clean. They also have a restaurant which usually needs booking, it's one of the buffet style restaurants rather than menu. We had a breakfast package included for our stay. I found the food to be quite basic and the cooked breakfast items always seemed cold.
Overall it's a nice cosy hotel. The rooms were warm and cleaned daily and the staff were always pleasant and helpful.
Disney Village – If walking from Sequoia lodge or other Disney hotels, it's likely you'll hit Disney village before finding the parks. Disney village has many gift shops, although all of them sell pretty much the same stuff. There's also many restaurants in the village which can work out cheaper than the actual parks. There's a big cinema too but we didn't go to it. It's a good place to shop and explore.
The Parks – There are two parks here. One being Disneyland and the other being Disney studios. There isn't that much difference, they both have many rides, shops, eateries and character meets. I think Disney studios is more themed around the movies whereas Disneyland is around the characters but I may be wrong.
The first thing you'll see on entering Disneyland is the famous princess castle. This is amazing and will make any wannabe princess smile. It's great any time of the day but at night it's lit up with a light show and fireworks.
The rides – As you can imagine, there are lots of rides in both parks to suit the majority of ages. The big thrill rides include thunder mountain, Crushes, space mountain, terror towers and Avengers which is probably the fastest one. Check my poor face below.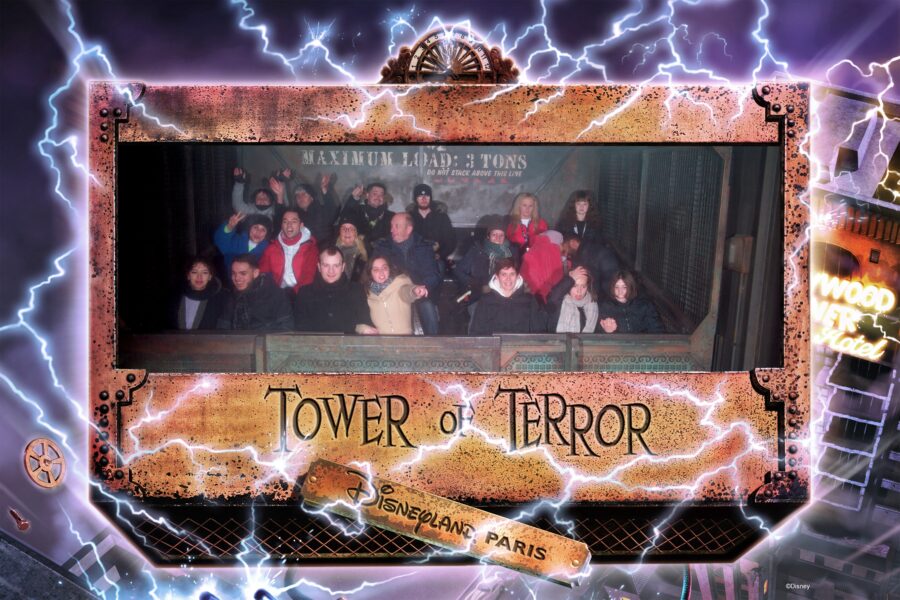 There are many family fun rides too. Buzz lightyear, Spider-Man, phantom manor, pirates of the Caribbean. These are like ghost train type rides where your on a car looking at things in the dark, tho not too scary.
Other rides include a big carousel, teacups, Alice maze, cars ride, flying dumbo and many more which are more the outside type rides. As for queues – yes some rides get busy especially Crushes. As we went in January the queues weren't too bad, apparently this is one of the least busiest months. If you go in summer or over Halloween or Christmas then queues can be hours long. If you download the Disneyland app, this tells you approximately how long the queues are for each ride, although we found it's not always accurate and the queues seemed shorter. A lot of rides do have the option of fast track booking for a fee, many of them also offer parent pass, where both parents can take turns to ride if they have young children.
Character Meets – Everyone wants a photo with their favourite character and there are hundreds of characters to be found. Not all of them are on everyday so it may be worth checking via the app which ones you can meet. There will be scheduled character meets throughout the day at certain times and places. As you can imagine these do get busy so it's a good idea to arrive early to avoid the long queues.
At certain times and places, some characters will stop and do random meets. However it's just pure chance to spot them and they only stay for a certain amount of time regardless of how many are queuing.
The characters are always very friendly and will give hugs. Many will also sign autographs so it's a good idea to purchase a small autograph book. They can be purchased in the Disney shops too. Also bring a pen as the characters don't have pens.
Our Darth Vader meet was purely by chance. I'd used the app map for directions to a ride we wanted to go on and somehow ended up in the queue for this meet. I can't complain at all m. He's quite grumpy but my daughter loved it and found him funny.
We didn't get to do the Disney princess meet. This is at the princess portal in Disneyland. Unfortunately the wait time on the app most days was 2/3 hours and this meant standing up waiting for that time. We were very happy with all the characters we met.
We did one character meet breakfast on the first morning too at one of the Disneyland buffet restaurants. Whilst eating breakfast, a selection of characters will come to the tables for photos and autographs. This was fun, but the price can be expensive.
Parades – The parades are the exciting part, every hour or so, the security will clear the roads and crowds gather on the sides to watch the parades. The parades consist of several colourful carts and wagons going past along with music and dancers performing.
The 5pm stars on parade is probably the best one. The big dragon is amazing and we managed to somehow get to the front. Yes it gets very busy quickly.
My ten year old was certainly fascinated by the parades and enjoyed waiving to the characters.
Shows – Throughout the day there will be a selection of shows to sit and watch. Some of these may need pre booking to guarantee a place or having to queue early. We managed to watch two of them. Frozen and the Lion king. Both were good and also gave us some opportunity to sit down for a while and rest our feet in the warmth. Audio for the shows is in both French and English.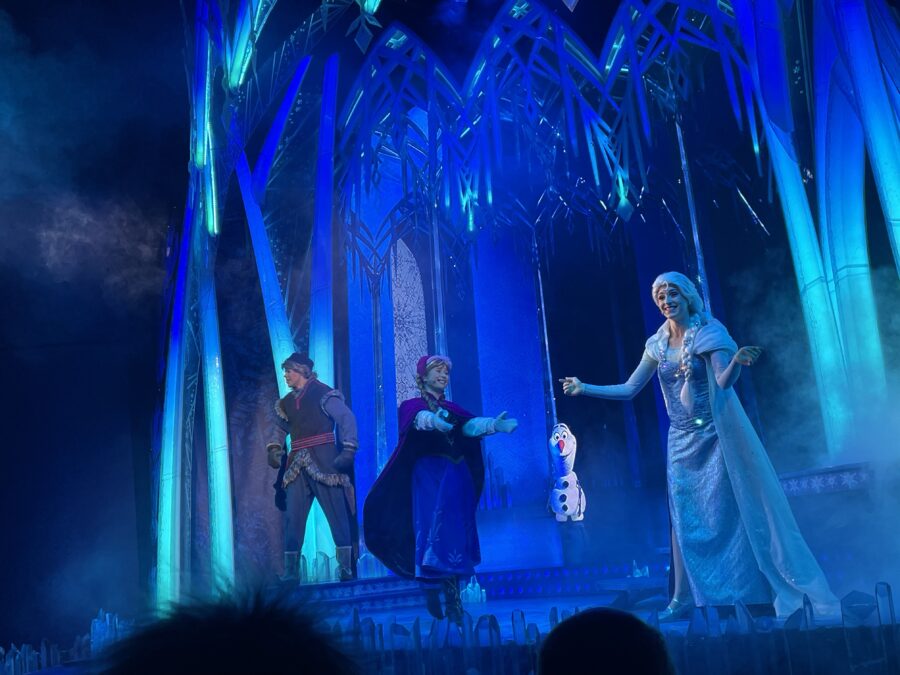 Dining – It's true, food can be very expensive here especially if you're a large family. You can take your own food in the parks, but if staying at the Disney hotels, there aren't any supermarkets or places to buy snack food. They have buffet restaurants which start at €45 per person or fast food places that sell pizza, burgers etc. There is a McDonald's in Disney village which is probably the cheapest place, but get used to eating similar stuff each day as most of the fast food places sell the same things,
Shopping – Lastly you can't visit Disneyland without bringing home a few souvenirs. Both parks and the village and full of gift shops. Most of them do sell the same items. You can find everything Disney themed, from clothes to fridge magnets to home wares and of courses the cuddly friends like these.
Many of the plushes and items can only be found in Disneyland stores and can't be found in the UK. It's always nice to bring back some memories. I also purchased a snowglobe, Disney jacket, mugs, magnets, chocolates and a few other bits. The smaller stores or the stores connected to rides will have more unique items than the main bigger stores such as the Rafiki plush above. I highly recommend visiting the Emporium store which is located near the main Disneyland entrance. It's huge and sells everything. They have a big section where everything is 70% off the price. I got a few bargains here. The prices of things vary, it depends what you want. The plushies are around €25 euros for a medium size and go up to €90 for the huge size (too big for the planes)
If you have an annual Disney pass then you will get discounts in the stores and restaurants too. Anything up to 25% off. This varies by place. I would recommend purchasing the photo pass too. Yes you can take your own photos but the photo pass gives unlimited photos of you on the rides and with some (not all) of the character meets as well as photos at certain places in the parks. The photos then get delivered to an app to share or print.
We had an amazing time. The rain stayed away. It was cold, similar temperatures to the UK. So if visiting in winter then you need to wrap up. Big coat, jumpers, layers, hat, gloves etc. I would love to go back again.