The words five star hotel combined with children or even families don't always mix well. Many people (singletons especially) may not like the idea of paying a grand price for luxury, only to find children running amok in the hotel corridors. Many hotels in the five star group are therefore not so welcoming when it comes to families and children.
However I was very very fortunate to recently stay in one hotel that certainly is "Family Friendly"
The Grand hotel and Spa is conveniently located within walking distance from York train station. The place oozes with luxury, set in the iconic former headquarters of the North Eastern rail company.


From the moment we arrived we got the celebrity treatment; after all it's not everyday we get helped out of taxis, bags carried and even umbrellas held over our heads on entrance. Real red carpet treatment at this place.


The porters and door men are lovely, extremely friendly, helpful, chatty and approachable.
We arrived fairly early before the 3pm check in time but were able to leave our large bags whilst we went off sightseeing around York. A taxi was ordered for us too and fresh fruit and lollipops are there to help ourselves too at reception. Izebella being delighted at the prospect of lollipops.
The reception staff are also warm and friendly and even offered to ring me once my room was available. We had a lot to go around York so I told them this was not required and we arrived back to check in just after 3pm.
Check in was quick. I was asked to leave a credit card incase I wished to charge anything to my room. Was told dinner times and asked about spa treatments etc. Then we were escorted to our room wit the bags following up a few minutes later.
The decor inside is beautiful. Extremely clean and pristine. Long hallways, high ceilings, winding staircases. The hotel is fairly new, but the inside has been created to look much older, vintage, almost to the style of its Edwardian aged building; yet luxurious and grand and Izebella said – Fit for a princess.


Our room! Well wow, what more can I say. It was bigger than my whole upstairs floor. The bed was the biggest I have slept in. Large television, huge storage cupboards, seating area etc.


Our room had everything we needed and so much more – hairdryer, iron, iron board, needle and thread repair kit, towel robes, Molten Brown toiletries, tea, coffee, biscuits, a fridge stocked with glass bottled water, menus, even complimentary chocolates and a welcome card.


Of course none of this is particularly child friendly. This is more Mummy friendly isn't it. Well Izebella got a lovely surprise to find that, not only did she have her own special smaller bed, but also her very own towels, mini gown, slippers, toiletries and an activity book and crayons waiting just for her.


We were both fascinated by the size of the room and just how grand and amazing it was. It was almost like a dream that we were even there.
After a lovely cup of tea and biscuits we went out again to explore York, returning for dinner at 6pm. Dinner is served in the new Rise restaurant and bar.


The Rise restaurant, terrace and bar offers modern cuisine across a new 'small plate' concept. It's a little like "Tapas" type dishes but obviously more gourmet, and it's recommended 3/4 per guest.


I chose three dishes from this fabulous looking menu.


I had the lamb, the chicken and the Tiger prawn dish followed by a delicious pana cota dessert. They have a children's menu too which is much simpler than the adults menu. The children's dishes are full dishes rather than the small dish experience.
The dining staff could not do enough for us, including helping Izebella on her chair. We were served drinks and bottled water and Izebella was given more activity books and ice cream. The food tasted amazing.
Once our grand dinner had settled, Izebella was eager to have an evening dip in the swimming pool. The pool is located on the lower ground floor along with the spa and gym. Many spa treatments can be booked, I didn't book any treatments as it was just me and Izebella there and it wasn't fair to her to make her wait whilst I got pampered. There was no way I was missing the pool and I am so glad I bought my costume. I mean who would say no to an evening dip in this?


This is like something one would find in an oriental palace. It is the cleanest and most luxurious pool I have ever had the pleasure to swim in. The evening lighting is so ambient, it's a perfect temperature and so tranquil.


The changing rooms are pristine, providing towels, spa gowns, hair dryer and hair straightening irons, fully heated and not a speck of grime or dirt in sight.
I did manage a quick dip in the Jacuuzi too. This is for adults only but Izebella was fine sitting at the side for a few minutes.


The hotel also boasts a sauna, steam room, gym and relaxation lounge.
My big bed was amazingly comfortable. Izebella started in her own smaller bed but ended up in mine eventually. We slept like princesses (minus the pea) after a lovely bath with the Molten Brown toiletries.


Breakfast at the grand was also a lovely experience. The choice of food is overwhelming. There is the hot buffet with egg, bacon, sausage, hash brown, beans, mushroom and tomatoes.


And also a choice of cereal, toast with butter, jam, Nutella etc.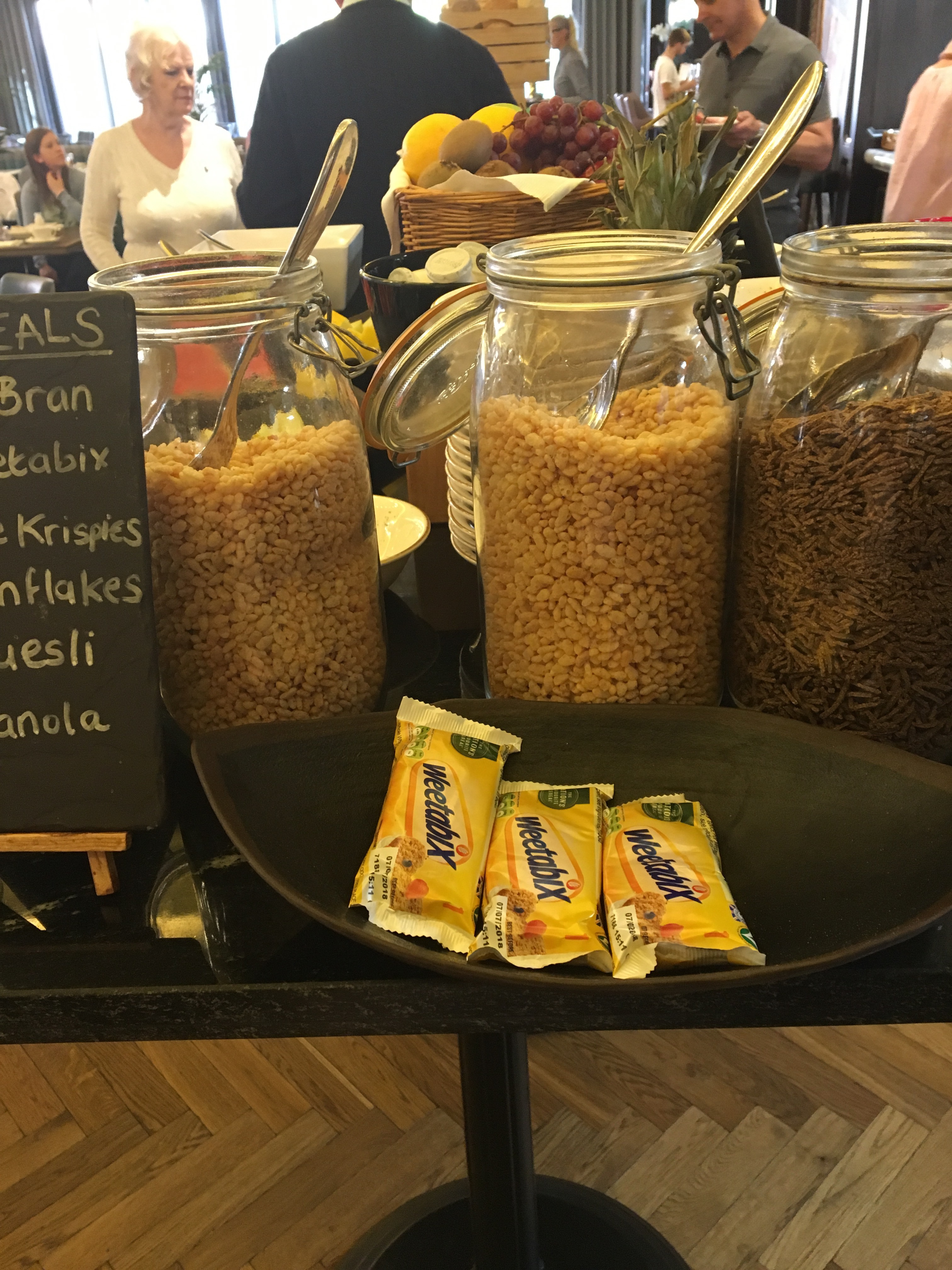 Then the more continental choices with fresh croissants, a selection of meats, smoked salmon, olives etc. Also my favourite a great selection of fresh fruits, yoghurts, actimel and breakfast bars.


With so much breakfast choice we just had to sample a bit of everything. And if none of this is suited to ones pallets then there is an optional menu serving other more extravagant breakfast dishes, kippers, poached egg type of foods. Both hot and cold drinks were available. Tea served in pots and a selection of fresh juices. Breakfast at the grand is certainly an unforgettable morning experience for all the right reasons.
We did not want to leave but sadly 11am arrived. Again we were helped with our bags and given fresh bottled water and fruit for our journey home.
We will never forget our amazing stay at the Grand Hotel York and hope to one day return to this amazing five star family friendly place.
Prices to stay at the Grand Hotel vary depending on room, party size, dates and extras.
"The Grand Hotel & Spa, York – Yorkshire's only AA 5-star hotel – has appointed 14-year-old Sam as its very own 'Director Of Fun & Families' and will lead a campaign to help children get the most out of their visits to York.
Sam's first job as Director Of Fun & Families has been to produce a series of six video blogs revealing his top tips for children to do in York, including family-friendly places to eat, things to do for free, as well as historic York.
Sam will be a kid consultant for the hotel, helping with everything from menus and recipes, in-room entertainment and seasonal city guides, through to suggesting family-friendly activities and promotions."
Sam's video blogs can be viewed here.