On Saturday I took Ryan, Izebella and their friends to Jump Xtreme in Bolton. Jump Xtreme is a big trampoline centre. Inside are 95 interconnected trampolines which from a distance looks like one huge one. The main trampoline arena also has Jump boxes, blocks and angled jump pads for the more daring bouncers.


As well as the main trampoline arena there is also a dodgeball arena, and slam dunk basketball on trampolines which is quite fun and makes it a little easier to get the ball in the nets.


And if that wasn't enough bouncy fun then there is also a large Xtreme stunt bag area. This has 4 trampoline platforms of varying height and run up to jump off into a huge soft air bag.


One of these platforms is really heigh and only for the bravest among us. Izebella really seemed to like the airbag jump even tho she sometimes got a little stuck getting off it.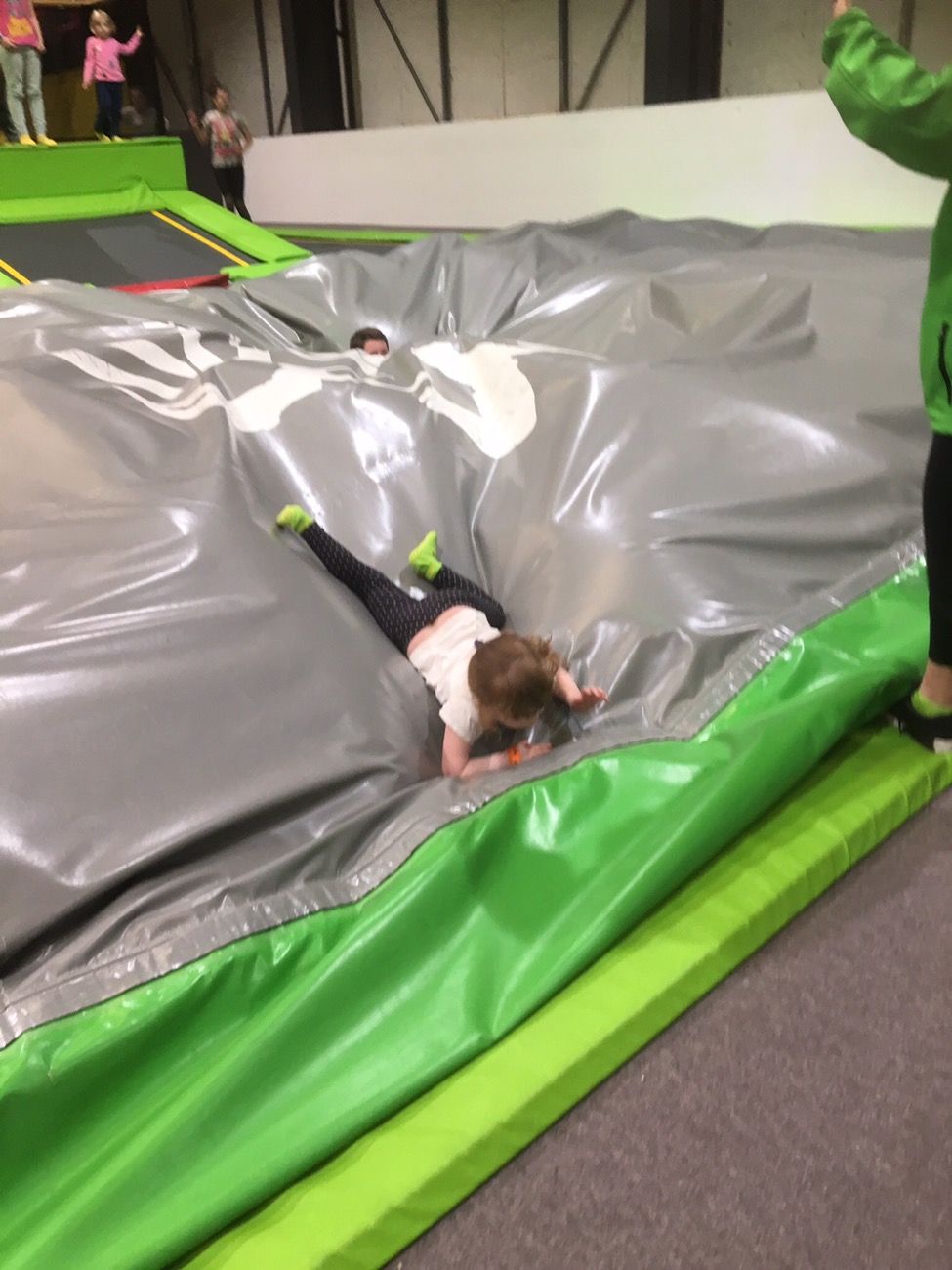 The air bag jump does seem a little dangerous as people are jumping into the same air bag from four platforms side by side. There was always a staff member there who directed when each jumper should go but the worry is that some idiot may not listen and jump at the wrong time resulting in a nasty people crash. However all seemed pretty safe when we went. If you are worried, check that the soft play centre has soft play insurance cover.
I had not done any sort of trampolining for many years and I found I could bounce pretty high on the ones at Jump Xtreme.


It was great fun and good exercise but also quite tiring after an hours session. Both Izebella and Ryan had a really great time trying all the areas and generally bouncing away for an hour.


An hours free jump session is £10 each and everyone jumping also needs special trampoline socks which can be purchased and kept for £2.00. Under 4s cannot go on the main trampoline areas and instead have a smaller toddler area with a few trampolines and toys. Younger children ages 4-8 years can use any area but need to be supervised at all times. Children over 8 years are free to use all areas alone.
As well as free jump sessions, Jump Xtreme also offers family sessions, teen nights, tots only, fitness sessions and birthday parties and they have centres in Bolton and Tamworth. Booking can be done online or pay at the centre. Visit the Jump Xtreme website for more information about this.
For a very special party you could consider hiring out the entertainment. It is now easy to hire party entertainment items such as waterslides, trampolines, ball pits, bouncy castles, and other activities that kids love. If you decide on hiring out the entertainment, accidents can happen, so make sure that you and your guest are covered. If you have bought a bouncy castle instead of hiring you can take out your own bouncy castle insurance direct. If you hire from a reputable company the items may come with public liability cover included, but always check.