Last month Izebella recieved some lovely toys from Wow Toys.
The first is one of Wows latest additions and is a "Countdown calander". These are a little like advent calendars but the difference being there are only 10 doors to open and they come with other themes including birthday, holiday, pre school or any other special day.
Izebellas birthday is not until October, so I with with the starting pre school one instead. She has been at nursery since January but had a long 2 week May break so this was a good idea to start the countdown to get her in the mood for returning.
Just like an advent calendar there are several doors to open and the idea is to open one a day; but the calendar counts down from the number 10 rather than up and finishes at one with an extra "on the day" slide door.

Behind every door is of course a little surprise and with these calendars the surprises are all toys and pretty good quality toys too rather than rubbish. Behind the doors we found lots of figures and a mini playground with a slide, table and bikes etc. I think the idea is that you keep all the toys together until the end of the calendar as they all fit and correspond together as a little theme. In Izebellas Pre-School calendar the toys all form a mini pre school.
So now Izebella has her own little pre school set and she loved counting down the days to nursery. My little munchkin however has a memory like an elephant and actually thought Father Christmas would be visiting by the end of the calander. More information on the calendar can be found Here.
Izebellas next toy from Wow is this cute Casey camper van.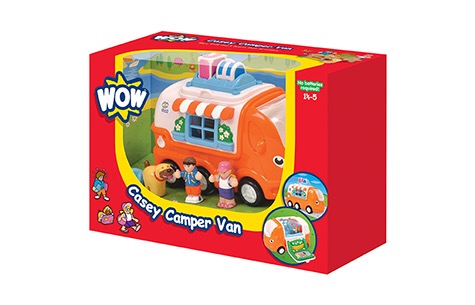 Izebella was over the moon to see this when she came home from nursery. It's bright bold colours seem very appealing to curious toddlers.
This camper van comes with a few accessories and figures including Pete & Lily characters and their pet dog, a dog basket, bowl, luggage and picnic table.
The camper van has many ways of opening up including the driver hatch, back, the roof and the side hatch which reveals a playground.
It does not need batteries but yet has a motorised wheel action when pushed or pulled, meaning it moves by itself with a bit of friction.
I think you only have to look at her little face to see how much she likes this.
All the figures and parts can of course be taken out when the van stops to have a much needed picnic.
And we even managed to make a mini video too of Casey camper van in action.
And a great thing is that the figures and toys from Izebellas calendar can be used in Casey camper van too making it all the more exciting for her.
Both of these toys are suitable for toddlers and young children ages 1-5 years approximately. Check Wow toys for more details.